4 Tips for Applying Self-adhesive Vinyl
Share
Issue Time

Sep 10,2021
Summary
The application of self-adhesive vinyl on different substrates and surfaces requires different bonding techniques, and some things must be noted at the same time. This article will specifically introduce the technique of applying self-adhesive vinyl.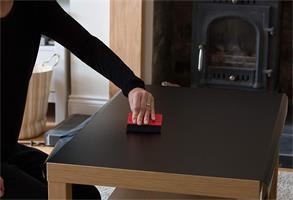 There are many
self-adhesive vinyl films
on the market that contain different adhesive systems. Some self-adhesive vinyl films are equipped with standard adhesive systems for common applications. Use on low surface energy substrates, hard-to-stick surfaces, and structured surfaces will require different kinds of adhesive technologies. The followings are some of our tips to help you apply self-adhesive vinyl.
Temperature

Remember to always refer to the material manufacturer's recommendations for the correct application temperature. This can usually be found in the corresponding installation guide or datasheet. Most products need to be applied at "room temperature"-usually in the range of 20-25°C-but some products can be used at temperatures as low as 5°C or even 0°C.
Cleaning
To ensure good adhesion, any surface where self-adhesive vinyl materials are to be used must be clean and free of dust, dirt, and surface treatment agents (such as wax or other contaminants). Regardless of the application, a professional surface cleaner should be used, even for short-term applications.
Before applying the graphics, the newly painted surface should be allowed to cure for an appropriate time (determined by the paint manufacturer). Attention should also be paid to the type of paint, as oil-based, water-based, and solvent-based paints have different requirements for any self-adhesive vinyl application.
Some surfaces may generate bubbles under the bonding of the self-adhesive vinyl, which may cause the adhesive to fail completely. These surfaces include fiberglass (uncoated), some polycarbonate and acrylic resins, and some surfaces that have been treated with silicone, wax, sealant, or paint. Therefore, you must use the cleaning agent recommended by the vinyl manufacturer to thoroughly clean your surface.
Beware of plasticizer migration
Be careful when applying self-adhesive vinyl to other self-adhesive vinyl surfaces, including flexible truck sides, banners, and logo surfaces. These substrates contain plasticizers that can migrate into the applied self-adhesive vinyl film and destroy the adhesive system. Film shrinkage/delamination/adhesive "drawing" from the substrate is an indicator that plasticizer migration may occur. Note: Once plasticizer migration occurs, it cannot be reversed or even prevented.
To avoid plasticizer migration, it is essential to select the correct vinyl for application to heavily plasticized substrates.

It is also important to ensure that when a self-adhesive vinyl is laid on top of another self-adhesive vinyl, the two products should have compatible chemistry. Otherwise, this can cause plasticizer migration resulting in shrinkage/delamination of self-adhesive vinyl and a breakdown of the adhesive system.
Choose the best method of vinyl application
There are two recognized methods for applying self-adhesive vinyl: wet and dry. The method chosen will, to some extent, be determined by the size and complexity of the graphic is applied.
Seek specific advice from Sounda when applying to difficult surfaces or within extreme environmental conditions, to ensure you select the correct material. We are able to provide detailed specification sheets and advice for most products.

As a professional manufacturer of
advertising, digital printing, and construction materials
, we always insist on providing customers with high-quality products. We have an experienced production team and a complete management system, and strictly handle every detail of the product. We can also continuously adjust and optimize the solution technology according to customer needs and provide customers with thoughtful one-stop service. If you are interested in our self-adhesive vinyl, please contact us immediately!