How to Repair PE Tarpaulins and PVC Tarpaulins?
Share
Issue Time

Sep 26,2021
Summary
PE tarpaulin and PVC tarpaulin may be damaged if used for a long time, we should repair it as soon as possible. This article will specifically introduce the repair method of PE tarpaulin and PVC tarpaulin.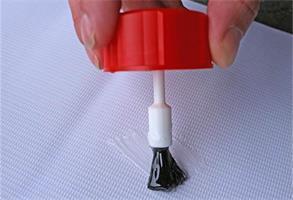 PE tarpaulin
and
PVC tarpaulin
may be damaged if used for a long time. At this time, we should repair the cracks and holes as soon as possible to prevent the tarpaulin from losing its due performance. The following is the method of repairing PE tarpaulin and PVC tarpaulin.
The methods of repairing PE tarpaulins
In contrast to PVC, PE is difficult to bond with the plastic adhesive. Nevertheless, there are possibilities for mending tears and holes in the fabric. Before you get started, the area around the puncture or small rip needs to be cleaned. It is best to place the tarpaulin on a table for easy handling. There are three ways for repairing PE tarpaulins.
Apply duct tape to the tarpaulin

Tape is not a permanent solution, but strong tape temporarily protects against further tearing of the tarpaulin. It is best to reinforce the rupture area with adhesive tape on both sides.
Sewing the tarpaulin of your tent
To prevent the tarpaulin from tearing further, it can be seen. Use strong thread and a strong needle for this. If you sew a patch over the affected area, this will hold better than directly sewing over the rip.
You're best off applying the repair patch onto the outside of the tent, so that water doesn't enter the rip and weaken the thread. When the seam is finished, cut off loose threads. The area can be coated with glue or a seam sealer for extra durability.
Mending PE tarpaulins with hot air
This form of repair is particularly suitable for large holes. Mending the rip is achieved by welding a piece of PE film onto the PE tent tarpaulin using hot air. The melting temperature of PE is approximately 130-145 degrees Celsius. You will need a device for blowing hot air (hair dryers don't exceed a maximum temperature of 130 degrees Celsius, so a heat gun is recommended), extra PE tarpaulin sheeting for use as a patch, and a pressure roller.
First, cut the patches to fit and then place them in the middle of the affected area. Carefully maneuver the hot-air gun between the tarpaulin and the PE patches and roll the pressure roller forcefully from above so that the heated, slightly melted materials bond together. Continue this process until the patch is applied without gaps. For best results, patches should be applied on both sides.
The methods of repairing PVC tarpaulins
The above-mentioned repair methods for PE tarpaulins can also be used for PVC tarpaulins. However, it's important to note that a higher temperature (melting temperature approx. 180 degrees Celsius) is required when patching with hot air. PVC also offers the possibility of applying repair patches using plastic adhesive. Make sure that you are working on a large flat surface, where you can spread out the tent fabric.
Bonding should be carried out in an outdoor area or well-ventilated room because the solvents of the glue are toxic. The adhesive is applied thinly on both the PVC tarpaulin and the PVC patch. After 5 to 10 minutes time, the PVC material will be slightly dissolved- lookout for a gelatinous consistency forming on the surface. The glued PVC parts are now placed on top of each other and pressed together. It is best to wear gloves to avoid contact with the adhesive.
Afterward, the join must harden for 24 hours. During solvent welding, the repair patch and PVC tent fabric are not glued together, instead, the PVC fabric dissolves bonds together at a molecular level, creating a seamless connection. The process, therefore, creates a very strong, waterproof join once dry.
For tarpaulins of different materials, the applicable repair methods are different. If you want to know more about PE tarpaulin and PVC tarpaulin after reading the above, please contact Sounda for professional advice.
As a professional supplier of advertising, digital printing, and construction materials, we have many years of production and manufacturing experience in this field. We have professional testing equipment and a complete production team and can provide you with high-quality products. We can also provide thoughtful service and good solutions according to your needs. If you are interested in our PE tarpaulin and PVC tarpaulin, please contact us immediately!