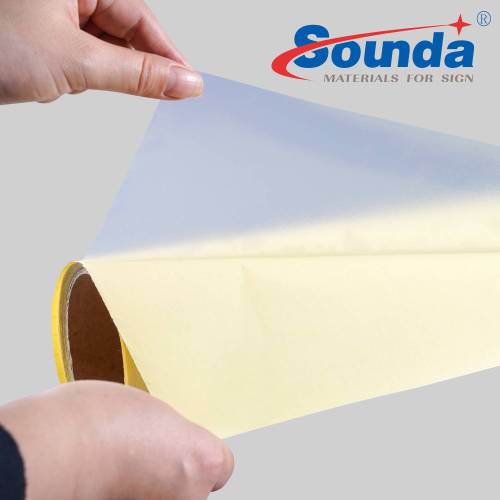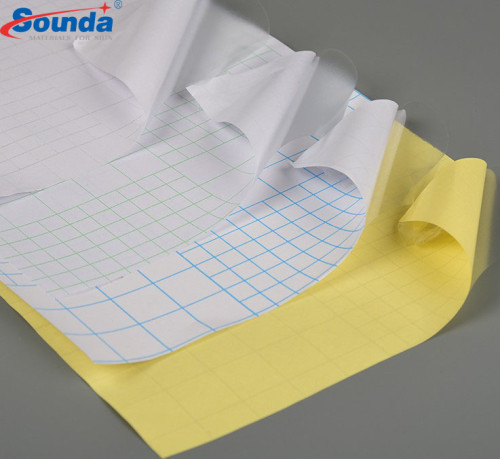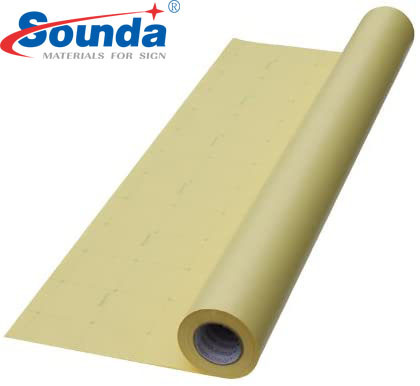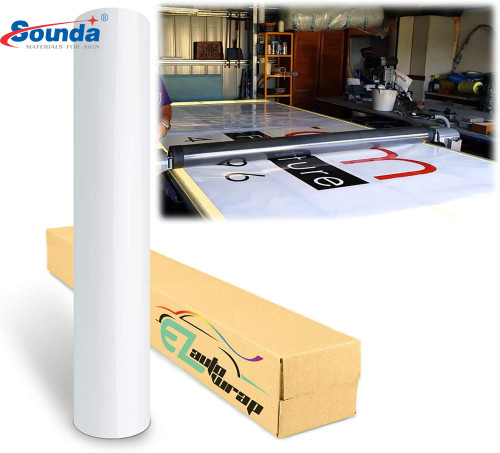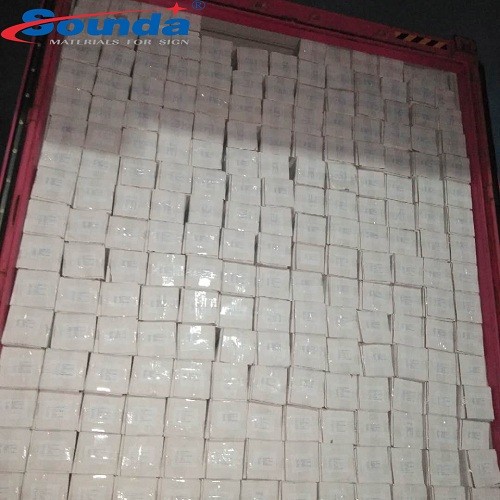 Factory Price PVC Cold Lamination Film Supplied by China Supplier
Item specifics
Material

PVC Face Film/ Pressure Sensative Adhesive/ Releas
Color

Bluish White/ Milky White(Snow White)
Standard

Sounda Quality Standard
Process

Laminated
PVC Face Film

70micron, 80micron, 100micron, 120micron
Backing:

100g, 120g, 140g
Glue (Adhesive)

Can be transparent, Grey, Black and White
Glue Type

Can be permanent and removable
Printable Ink

Solvent/Eco-solvent/UV/Screen Printing/Latex
High Lights

Smooth surface/Weather resistance/ Excellent Printing Result/Fast Dry/East to Stick
Finish

Glossy & Matt
Width

0.914/1.07/1.27/1.37/1.52/1.82/2.02m
Length

50m, 100m, 150m, 200m, 250m
Inner Core Diameter

3inch
Description

| | |
| --- | --- |
| Brand | Sounda |
| Product Name | Self Adhesive Vinyl/One Way Vision/Cold Lamination Film/Cutting Vinyl/Reflective Vinyl |
| Material | PVC Face Film/ Pressure Sensative Adhesive/ Release Paper |
| Color | Bluish White/ Milky White(Snow White) |
| Standard | Sounda Quality Standard |
| Process | Laminated |
| PVC Face Film | 70micron, 80micron, 100micron, 120micron |
| Glue (Adhesive) | Can be transparent, Grey, Black and White |
| Backing | 100g, 120g, 140g |
| Glue Type | Can be permanent and removable |
| Printable Ink | Solvent/Eco-solvent/UV/Screen Printing/Latex |
| High Lights | Smooth surface/Weather resistance/ Excellent Printing |
| Finish | Glossy & Matt |
| Width | 0.914/1.07/1.27/1.37/1.52/1.82/2.02m |
| Length | 50m, 100m, 150m, 200m, 250m |
| InnerCore Diameter | 3inch |
| Package | Hard Carton Box |
| Application | Outdoor Signage/Display/Bus Sticker/Billboard/Other Advertising Board |
| Storage Life | 6 months |
Features:
1) Flat and good looking.
2) Well protection and waterproof.
3) Last longer time.
4) Make image more vivid.

Product advantages:
Self-adhesive vinyl are widely used in digital printing, signs, advertisement, car decoration,vehiclegraphic, window/door graphic and etc. With a rich product line, we can meet different customer'sdemand and requirement on quality and price. It has good weather fastness,ink absorption, andis very easy for application. The printable inks are solvent ink, eco solvent ink and uv inks.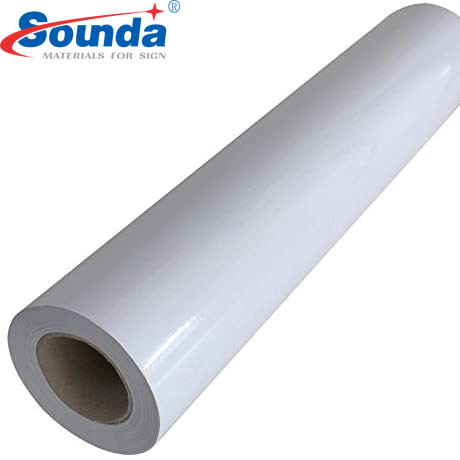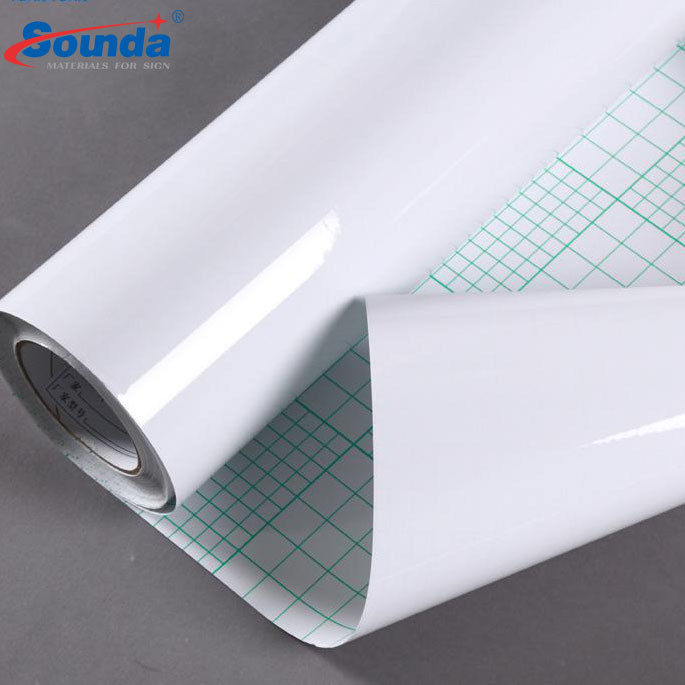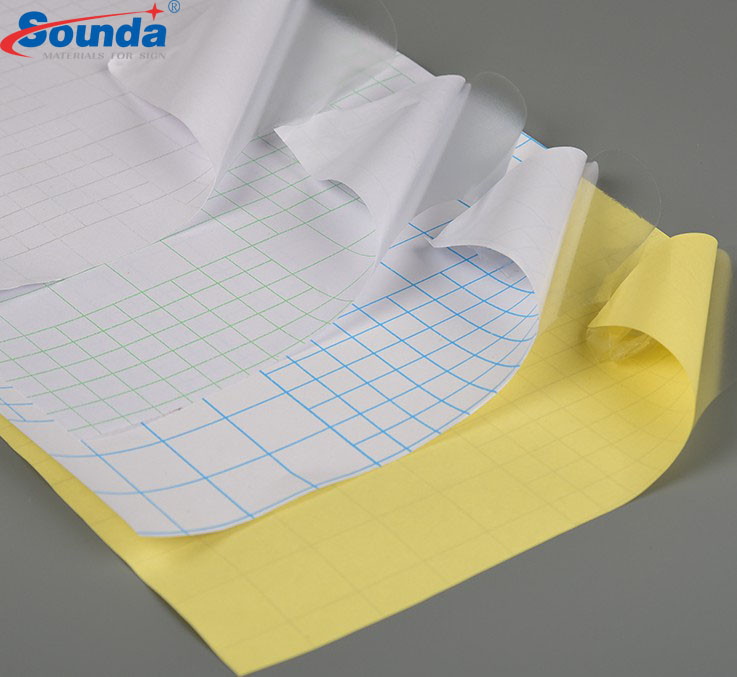 Popular Items for Self adhesive Vinyl

| | | | | |
| --- | --- | --- | --- | --- |
| Product Code | Description | Specification | Width(m) | Length(m) |
| B-GAV160 | bubble free GAV-A | 100micron; 140g | 1.37/1.52 | 25 |
| GAV140 | Grey Self Adhesive Vinyl | 100micron; 140g | 0.914/1.07/1.27/1.37/1.52 | 20 |
| BAV140 | Black Self Adhesive Vinyl | 100micron; 140g | 0.914/1.07/1.27/1.37/1.52 | 20 |
| GAV120 | Grey Self Adhesive Vinyl | 80micron; 120g | 0.914/1.07/1.27/1.37/1.52 | 20 |
| BAV120 | Black Self Adhesive Vinyl | 80micron; 120g | 0.914/1.07/1.27/1.37/1.52 | 20 |
| TAV130 | transparent self adhesive vinyl | 80micron; 140g | 0.914/1.07/1.27/1.37/1.52 | 20 |
| TAV120 | water based transparent sav | 80micron; 120g | 0.914/1.07/1.27/1.37/1.52 | 20 |
| SAV140HG | High Glossy Self Adhesive Vinyl | 100micron; 140g | 1.06/1.27/1.37/1.52 | 60 |
| SAV140-120M | Self Adhesive Vinyl | 120micron; 140g | 0.914/1.07/1.27/1.37/1.52 | 40 |
| SAV140-SG | Strong Glue Self Adhesive Vinyl | 100micron; 140g | 1.06/1.27/1.37/1.52 | 40 |
| SAV140 | Self Adhesive Vinyl | 100micron; 140g | 0.914/1.07/1.27/1.37/1.52 | 20 |
| SAV130 | Self Adhesive Vinyl | 80micron; 140g | 0.914/1.07/1.27/1.37/1.52 | 40 |
| SAV120 | Self Adhesive Vinyl | 80micron; 120g | 0.914/1.07/1.27/1.37/1.52 | 20 |
| SD-SAV140C | color vinyl | 100micron;140g | 1.22 | 12 |
| SD-SAV120C | color vinyl | 80micron;120g | 1.22 | 16 |
| STF100A | transfer film | 70micron; 100g | 1.20/0.60 | 20 |
| SD-OWV183 | one way vision | 140micron; 140g | 0.98/1.06/1.07/1.27/1.37/1.52 | 20 |
| SD-OWV120 | one way vision | 120micron; 120g | 0.98/1.06/1.07/1.27/1.37/1.52 | 20 |
| SCL811-Outdoor | cold lamination film | 80micron; 120g | 0.914/1.07/1.27/1.37/1.52 | 20 |
| SCL070-Indoor | cold lamination film | 70micron; 100g | 0.914/1.07/1.27 | 20 |
Applications:
1. Self Adhesive Vinyl
2. One Way Vision
3. Cold Lamination Film
4. Cutting Vinyl
5 .Reflective Vinyl/Reflective Sheeting
6. PP Synthetic Paper & Wall Paper
7. Backlit Film and PET Banner Film
8. Car Wrap Vinyl & Carbon Fiber
9. Window Film/Floor Graphics/Static Cling Fim